I have been so busy playing catch up since we got back home from Lane's Make A Wish trip to Disney World. I was finally able to put together some cards for teacher appreciation week that is being celebrated this week at my kids' school. The inside of the card is able to hold a gift card.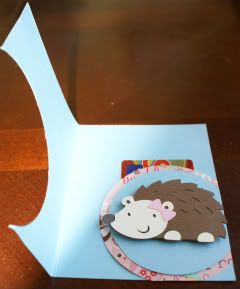 Items used:

Cricut Cartridges: Create A Critter, George and Basic Shapes, and Plantin Schoolbook

Cuddlebug folder: Swiss dots

Paper: Creative Memories cardstock, imaginisce Twitterpatted, DCWV the Grade School stack

The word "thanks" is cut at 1 inch, the zebra is cut at 2 1/2 inches, the apple and hedgehog are cut at 2 inches. The inner circle is cut a 3 1/4", the outer circle is cut at 3 3/4".
Have a great day!